Description
CONTROL PANEL
Easy to understand and easy to use.One touch buttons for speedy operation.
Get to the Point
Find your way around in moments with an intuitive layout and large buttons.Frequently used functions such as ID copy, Simplex / Duplex can be assigned to the one-touch hard-key to save overall operation time.
Backlit LCD Screen
The five-line, backlit LCD display helps in solving problems quickly.Clear error indications and illustrated guidance assist you about how to resolve the problem.
COPY & PRINT
Plenty of useful layout options to keep your documents organised.
Handy Booklets
Easily collate your multi-page documents into a booklet with Booklet Print.

Get Everyone on the Same Page
Print multiple pages onto one sheet with N-up Print. Collate 2 or 4 pages into one.

Double Up
The optional Auto Duplex Unit (AD-509) enables Duplex Print and Duplex Copy thus helps in saving paper

ID Copy
Combine both sides of small or irregularly shaped documents onto one page with the ID Copy function. The ID Copy function can be accessed from the operation panel.

With the Multi ID Copy function, you can scan multiple small documents at once, thereby combining the fronts and backs onto a single sheet. This is ideal for business cards.

SCAN & FAX
Digitise your documents in full colour and send them straight to where you need them.
Scan Double-sided
The optional Reverse Auto Document Feeder (DF-633) enables duplex scanning to increase work efficiency.
Scan in Full Colour
Digitise your documents quickly and easily. Scan up to 20 pages per minute* in full colour, and choose what format you wish to store them in, including JPEG, PDF or TIFF.
*20 ppm is the speed when equipped with optional Reverse Automatic Document Feeder DF-633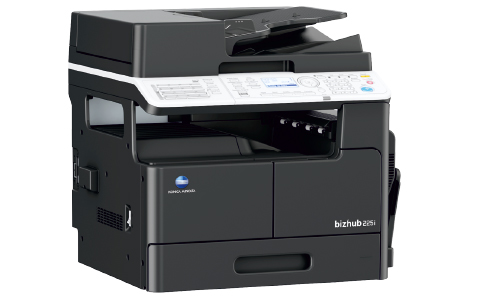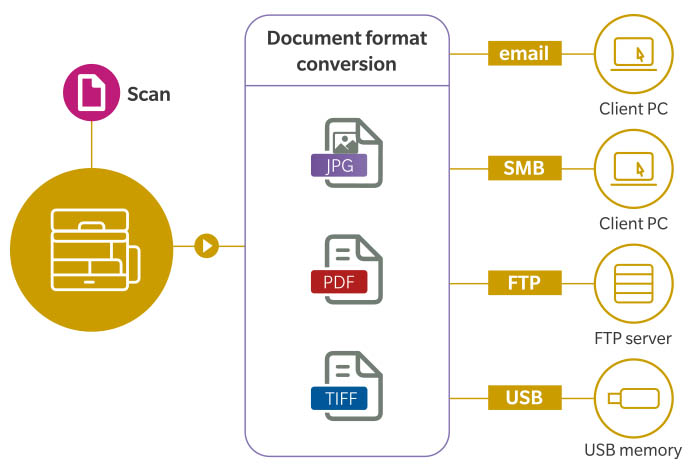 Select Your Destination
Once your documents are scanned, you can send them to the desired destination directly from your bizhub. Store files straight to a USB storage device via the USB port, send them via e-mail, SMB or to an FTP server.
Sent in Seconds with G3 Fax
With the addition of the optional Fax Kit (FK-510) and Fax Panel (MK-750) you can send faxes in as little as 3 seconds via high-speed G3 faxing. A variety of faxing options are available allowing you to select the ideal format for your document. Select Super Fine image quality for high quality transmission and choose from multiple paper sizes.
Internet Fax
Save on running costs by using Internet Fax to send your documents via your existing internet connection. Ideal for office where fax is a necessity, but not in use every day.
*Requires optional Fax Kit (FK-510) and Fax Panel (MK-750).
MOBILE CONNECTIVITY
No need to waste time transferring documents to your office computer for print. Work on-the-go and stay on-the-go.
Mobile Print for bizhub 225i/205i
The Mobile Print app allows you to print directly from your Android and iOS device using your company's Wi-Fi network. The simple and intuitive app interface makes it easy to select and send documents and even enables documents stored in the cloud to be printed directly through your bizhub.
*For Android devices download from the Google Play Store and for iOS devices download from the App Store.
*Requires a wireless LAN environment.
SECURITY
Protect your information and keep your office environment secure.
SMTP Authentication
This security tool enables the sending of documents via e-mail with authentication by an SMTP enabled server. Ideal for smaller offices without a private e-mail server, a connection to an SMTP enabled server allows SSL communication, so e-mails can be sent in a security conscious state.

Watermark Your Documents
Ensure your documents are clearly labelled to help prevent them falling into the wrong hands. Choose from a range of watermark options to suit the purpose of your document.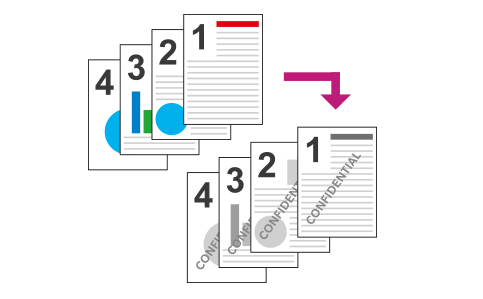 Account Tracking
Enable Account Track on your bizhub with a three-digit account number to use the Copy feature. This prevents unauthorized users from using the bizhub and tracks the volume of copying done by each account.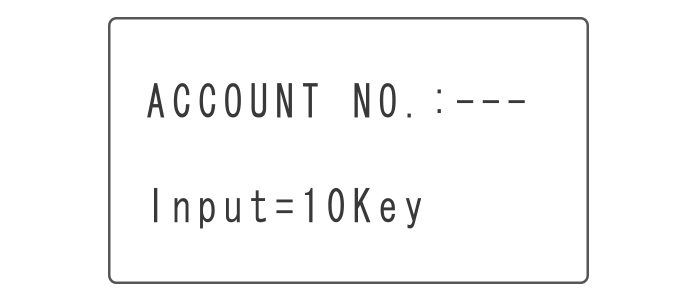 Secure Print
When you enable this option, a password is required at the bizhub itself before a document will print. Set the password via the print driver at your computer,then enter it on your bizhub's control panel to start the print job. This prevents confidential documents from lying around the office or being accessed by an unauthorized user.
*Passwords can be set in the range 0000~9999.