Description
Key features



Operation panel                                                                                                               Memory                                                                                                             Mobile connectivity
7″ Colour touch panel                                                                                4 GB RAM and 256 GB optional SSD                                          Print from & scan to your mobile devices
Print from & scan to your mobile devices
Enjoy a flexible mobile work style by using iOS, Window 10 and Android mobile devices to take advantage of printing and other features. Use the latest mobile technologies to connect with bizhub 306i series, print documents, import scanned data and more from smart phones and tablets.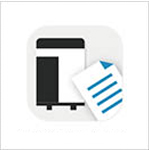 Konica Minolta Mobile Print
Print and scan wirelessly from your mobile devices by Konica Minolta Mobile Print app. Print & Scan from anywhere, anytime with the most advanced wireless, mobile & cloud technology.. Use Bluetooth or the NFC pad to verify your device, then send print jobs and receive scan data via Wi-Fi.
Optional device connection I/F kit EK-613 required. Bluetooth LE (low energy) required for iOS devices. Wireless LAN environment required. Available for iOS devices, Android devices & Windows 10 mobile device.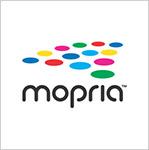 Mopria Certified
Send and receive data to your bizhub via the Mopria app on Andoid.The Mopria Alliance certifies printers and MFPs from many brands for use via their app, making it easy to print from, and scan to, your mobile devices, even if this is the first Konica Minolta machine to join your workspace network.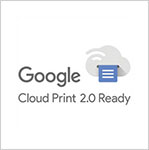 Google Cloud Print
Print from anywhere regardless of operating system or device with Google Cloud Print. All you need is an internet connection. Google account and Google Cloud Print Setup are necessary.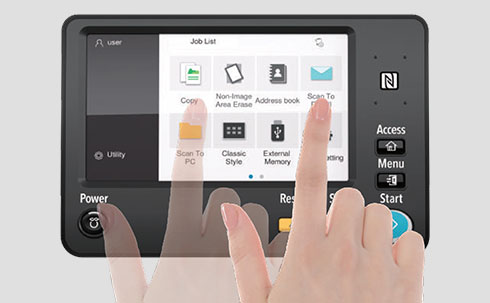 7-inch touch panel & new user interface
Control your bizhub from a large, multi-touch panel. Featuring full colour and seamless operation, you will feel familiar from the first touch.Thanks to an intuitive, smartphone- like user interface.
Optional hard-key number pad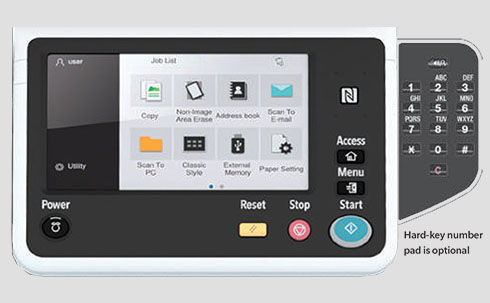 A hard-keypad with numbers and simple operation keys can be added to your bizhub as an option, for those who aren't comfortable with touch panel operation.
System Specifications
| | |
| --- | --- |
| System memory | 4GB (standard) |
| System SSD | 256 GB (optional) |
| Interface | 10-BASE-T/100-BASE-TX/1,000-BASE-T Ethernet, USB 1.1, USB 2.0, Wi-Fi 802.11a/b/g/n/ac (optional) |
| Network protocols | TCP/IP (IPv4/IPv6), NetBEUI, SMB, LPD, IPP, SNMP, HTTP |
| Automatic document feeder (optional)*4 | Up to 130 originals, A5-A3, 35-128 gsm |
| Printable paper size | A6-A3, customised paper sizes |
| Printable paper weight | 64-157 gsm |
| Paper input capacity | Standard: 350 sheets, |
| Tray 1 | 250 sheets, A6-A3, custom sizes, 64-157 gsm |
| Tray 2 to 5 PF-509 (optional) | 4×250 sheets, B5-A3, 64-90 gsm |
| Bypass tray | 100 sheets, A6-A3, custom sizes, 64-157 gsm |
| Automatic duplexing | A5-A3, 64-90 gsm |
| Power consumption | [220-240 V, 50/60 Hz] less than 1522W (system) |
| System dimensions | 306i: [W x D x H] 627 x 622 x 579.6 mm (24.7 x 24.5 x 22.8 inch) *1 266i/226i: [W x D x H] 627 x 615 x 458 mm (24.7 x 24.2 x 18.0 inch) *2 |
| System weight *3 | 306i: Approx. 37.5 kg(82.7 lb) 266i/226i: Approx. 32 kg(70.5 lb) |
SYSTEM OPTIONS